Quality Assurance

and Environmental Policies
At Pacific Labels, our mission is to meet and exceed our customer's expectations by being the best at what we do through team work and responsible action, in a manner sufficiently efficient to achieve an acceptable profit plus providing continuity of employment and company growth.
POLICY STATEMENT
Pacific Labels Pty Ltd is committed to supplying quality labels that meet customer requirements throughout their effective life. To achieve this and maintain our position as a printer of quality labels, tags and materials, we are committed to the continual improvement of our management systems, operations and the products provided by our company.  Pacific Labels will maintain its Quality Management System in accordance with ISO 9001:2015 requirements.
AIMS AND OBJECTIVES
We recognise that the quality of our products are determined by our client's needs and expectations. Our objectives are therefore to:
Identify and meet all applicable requirements; whether client, legislative, industry-specific or otherwise
Develop and maintain processes and procedures that ensure that these requirements are met or exceeded
Achieve efficiency in our operations, attention to detail, and responsiveness to client priorities
Be the best at what we do
Achieve profitable growth

 

Provide an employment environment where continuous improvement is encouraged
Provide rewarding careers for our employees
This will be achieved by applying Pacific Labels quality principles: 
Making it right first time
Working together as a team
Continual review and improvement of processes and the Quality Management System
These quality objectives can only be achieved with a total commitment by management and employees. 
RESPONSIBILITIES
The Directors and Senior Management of Pacific Labels will support the Quality Management System by:
Taking accountability for the effectiveness of the Quality Management System
Ensuring that the quality policy and quality objectives are established and updated as required

 

Providing the necessary resources to maintain and improve the system
Communicating the importance of effective quality management
Supporting management and employees to contribute to the effectiveness of the Quality Management System
Employees are expected to:
Assist and cooperate in ensuring that this policy is followed
Actively participate in the adherence of the company to the achievement of the goals and objectives of this policy
Quality Assurance
To ensure the quality of our products we at Pacific Labels have implemented and completed a stringent and comprehensive quality assurance program. By achieving ISO certification, we have demonstrated that our quality management systems meet the most comprehensive of the ISO standards. Our dedication to quality products and facilities keeps us at the forefront of our industry.
Chris Doherty
MANAGING DIRECTOR
Pacific Labels Pty Ltd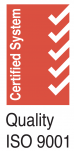 Pacific Labels Environmental Policy
Pacific Labels is committed to carrying out its business in a manner which ensures that reasonable and responsible consideration is given to the protection of the environment.
Pacific Labels will continue its business and operations in compliance with all applicable environmental legislation through continual reduction and control of environmentally harmful emissions and wastes from its operations.
Pacific Labels will strive to:
ïControl environmentally harmful emissions and wastes from its operations by planning, constructing and operating facilities in compliance with all standards established by the appropriate agencies and, within the limits imposed by economic viability, by exceeding such standards. 
1)    Recognise the spirit and intent of all applicable government standards and regulations and will act responsibly towards environmental concerns in the absence of regulation.
2)         Co-operate with all government environmental agencies and establish effective communications with the government and all employees and stakeholders.
The following procedures are designed to promote adherence to the Company's Environmental Policy
The procedures include:
Preventative maintenance, monitoring for all operations which might discharge environmentally harmful substance into the environment.
Use of accredited contractors to remove any harmful substance from site, and disposal in accordance with environmental standards.
The commitment of sufficient resources to meet the Company's legal obligations and further resources consistent with the Company's other obligations to ensure that this policy is pursued and maintained.
Something about label solutions with links to page.